The New Hope Group Jointly with other Organizations Purchase the Largest Australian Pet Food Company by 1 Billion Dollars
Release time:17-12-20 10:30:11 author: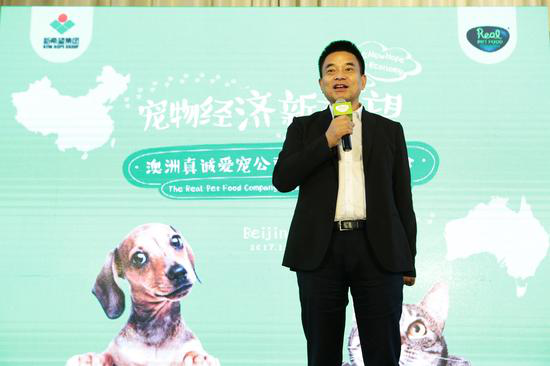 News on December 19, as an important internal crossover, New Hope Group announced today as the first big shareholder and joint Hosen Capital, Temasek, China Investment Overseas Corporation, Qicheng Capital finished the purchase for Real Pet Food Company on November 30 2017 and has completed delivery procedure. It is understood that the purchase amount is 1 billion dollars, of which New Hope Group and Hosen Capital share 50%.
Liu Yonghao, President of New Hope Group, revealed today that New Hope will continue to do the pet economy and investment in some companies, in future this kind of industry may be listed.
According to public information, the Real Pet Food Company was founded in 1994, is originally made animal practical sausage products, later produce whole series of dry and wet pet food production.
"As in the field of animal nutrition experts, the acquisition is another important strategic layout of New Hope, New Hope is China's largest feed production enterprises, and the high-end of animal food is cat and dog food," Liu Yonghao said, he has been focused on the consumer upgrading opportunity in recent years,"we found that with the improvement of people's livelihood, people are becoming chasing more and more company, this leads to the increase demand for high-end pet food, it reflects the people's yearning for a better life. Previously pet owners are mostly old men whose children in the other city work, but now young people are the main force. More and more young man regard the pet as one of their family, they are willing to spend money to pet, they produce more diversified, more fashionable consumer demand, it has brought huge potential for Chinese pet food market."
Public information shows that New Hope Group has distributed in the field of pet consumption actively in recent years, in 2015 its branch Cao Gen Capital invested in pet electric business platform LeePet. In 2017, it founded Mao Ning Pet Co., Ltd. It is based on pet food, gradually building brand operation, product research and terminal sales of the whole industry chain layout.
For the Chinese market, according to the 2017 White Paper on China's Pet Industry shows that China's pet industry scale will reach 134 billion yuan in 2017, is expected to remain an average of 30.9% of high growth development by 2020.
Industrial Securities Research published the Report of Pet Industry Deep Research pointed out that there are three major factors motivate pet market fast growth:1. the gradual improvement of policies and the change of family structure, the number of pets is far unsaturated and the future will continue to grow. 2. the increase of consumption level leads to the growth of pet market.3. Currently, the industry pattern is dispersed, and the concentration degree is expected to improve under the catalysis of capital inflow.
Today, when it comes to purchase of the Real Pet Food Company, Zhang Tianli, Co-founder of the company, said that China is entering an aging time, with only one child, who will accompany them will become more and more important. He thought there are two things that can satisfy them, one is a smart phone and the other is a pet.
On the other hand, from the point of view of current market pattern, with the pet population growing, the market doesn't have much good, well-known brands to meet their needs. From the point of view of the capital market, there are few pet consumption related listed enterprises, they are China Pet Foods and Peidi Pet Products Co., Ltd.
In terms of pet food, for example, according to the Sina Finance and Economics the global pet food market is mainly occupied by American Mars, Purina and Colgate Hills. While in China, the situation is similar, without the birth of a large-scale local brand, it lacks of a head domestic brand enterprise.
The study of Huatai Securities shows that in the pet food market, foreign brands account for more than 50% of the domestic market, and main positioned high-end market. Due to the lack of brand awareness, domestic pet food is mostly positioned low-end market, and the proportion of single-brand cities is less than 10%.
And this market pattern will bring great opportunity and potential to the pet economy. "we want to be a leader in this field, to rush, to run, to start a new world, to push the global pet food to a new level. We may don't have any barriers to be listed in the future." Liu Yonghao said.